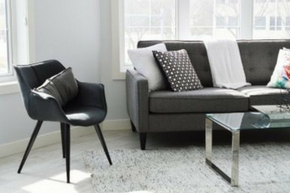 After spending the majority of the last year to year and a half at home, it's no wonder that the rooms are feeling a little cluttered and you're looking to make some changes. Maybe you're looking to have a total overhaul and go the complete opposite way? If you're looking to bring the minimalist feel into your home, then this blog is for you.
You might be thinking what exactly is minimalism and what does it entail? Minimalism is all about being understated; clean lines, neutral colour palettes, tidy appearances and limited decor. So what do you have to do to create a minimalism home?
Creating a minimalist feel
The first place to start is with a throughout declutter. Take note of what you have in the room and what you actually need. Anything that doesn't make that list you can get rid of, and anything that you have kept you need to find a specific home and space for. Once you've got rid of those things that you don't need, it's important you keep it that way. Minimalist style rides on a feeling of comfort, peace and cleanliness, but that can't happen in a cluttered environment.
Once you've decluttered, you can then decide on your neutral colour palette. Choose from earthy tones, browns, whites, creams. Colours that all compliment each other and bring on a calming and relaxed feeling.
When it comes to flooring, you could choose between the cool wooden tones of laminate, Karndean or even real wood flooring. Or you could choose some neutrals carpets. We have a huge range of bleach cleanable carpets which means you don't even need to worry about any stainage.
Carpet showroom
If you would like to refresh your home flooring, either with some brand new carpets or new hard flooring, why not come and visit us here at Welch Mill Carpet Showroom Leigh?